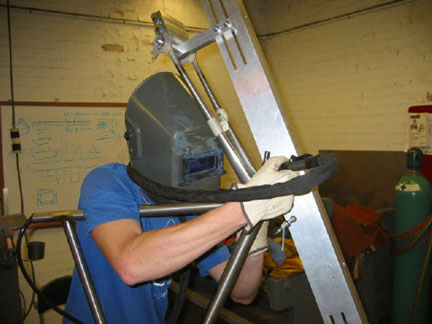 I built a bike frame in the spring semester of 2003. It was only finished a day or two before graduation, after an enormous amount of work, but it is strong, beautiful, and a defining object/project in my life: the coolest single thing i've ever made. An unbelievable amount of time went into this bike, and if I didn't love bicycling so much it would have been difficult to self motivate to do a hundred hours of work for a single end product. The sheer amount of craft, design, and skill aquiring that went into this project makes it my most consuming project to date, which says a lot.
Beyond what time was actually spent making the bike, there were countless hours spent learning to weld, braze, solder, and getting familiar with the intricacies of the more exciting shop machines. Beyond this, I did enormous amounts of internet research, even a little time in the library, and I probably spent four hours working on the jigs and tooling for every hour working on the bike itself. It has paid off. I now own the jigs and tools to make my own frames from scratch, and have the knowledge to do it. It could be a consuming hobby, but a worthwhile one. While my current transient lifestyle doesn't lend itself to any impending framebuilding projects, its definitely something im going to take up when i settle down again.

For a long-winded description of the framebuilding process, check this out.
For a few more pictures of the finished frame, try this.

She was initially built up as a brakeless track bike, with a black seat, black post, black bars, black levers, black carbon fork, and black-wrapped bullhorns. Since then I've decided that I like to be a little more aggressive on the bike than the fixed-gear braking setup allowed, and black and red wasn't really doing it for me. Currently, she is built as follows: Black front wheel, laced three leading, three trailing (it's a good look). Black and blue rear wheel, laced 3x for strength. Standard drop bars, wrapped with two interwoven bar tapes, celeste/cork, and bright yellow (yeah, its pretty funky). Yellow-glitter selle italia nitrox saddle. Front brake, a salvaged dual pivot Coda, run to a used DA lever on the bars, with a dummy hood on the right side. Sora cranks, 165mm. Silver threadless stem. All told, she is a complilation of cheap parts and a lot of style. She weighs 19 pounds with all those heavy bits and pieces, but her steep track geometry makes her handle like she was weightless. Of that the frame is something like three pounds (without the fork).